There are days and restaurants that remind me that one of the reasons I began working on Drawn and Devoured was to further my education about food, especially food in Toronto which is such a mishmash of international styles. Neapolitan pizza isn't new here, I guess, with staples like Pizzeria Libretto having been around ages (I'm excited for the one opening near my home on Danforth!). I've yet to make it over, and my university days were spent mostly with the garlic rich, E.V.O.O. drenched slices by Massimo's. They're NOT Neapolitan! I think they New York style, but comparing the two is apples to oranges. My closest run in with a Neapolitan style pizza was a pizza pocket from
The 416 Snack Bar
. I will tell you, it is NOTHING like what I experienced later!
Recently a little place opened up in Corso Italia -that other little Italy that feels less like a club district than College West- called
Pizza e Pazzi
(1182 St. Clair Ave W). It boasts a wood burning oven and a traditional recipe that only need four ingredients (not counting
love
). I have wondered just what could make one pizza so different from the next, and this is where I learned that a pizza doesn't need to be folded in half and dripping with cheese, but can be torn, shared, and appreciated as more of a craft bread.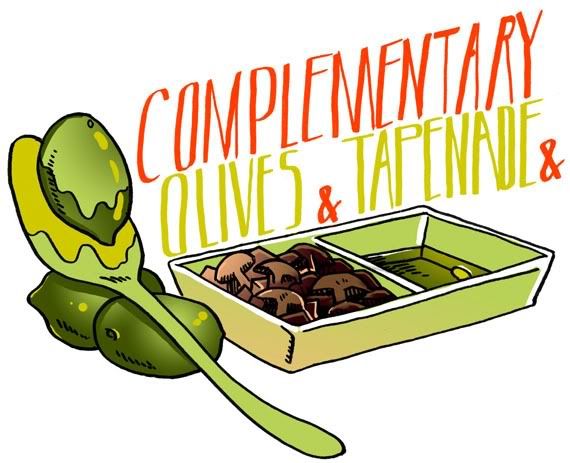 Pizza e Pazzi is incredibly new and wet behind the ears. It has all the bright eyed eagerness of its freshness showing in the big flustered grins of the service, and the stern, concentrating frowns of the pizza makers. Everything is dark and gleaming, classy. The tables are small and intimate, and word of mouth has served this place well. Is it odd that I'm surprised by their lack of public twitter? There was a time when social media didn't factor into a restaurants launch! Yet the tables are packed, and even though my chronically half-hour-early self was there long before my friends to make a reservation, it was a 15 minute wait before we were seated. Make a reservation if you want dinner at a certain time. Walking into this place along is worth the wait, your mouth will start watering from the scent of floury dough and olive oil, the air redolent with basil. It smells amazing. It smells like
dinner.
We aren't seated long before we're offered beer, wine, and complimentary olives, mushroom tapenade and fresh red fife and pita. I'm surprised in the best way- so few places I've been to offer something for the table to snack on while orders are prepping and drinks are being poured, let alone something as delightful as this. The mushroom tapenade is marinaded and moist, not soggy. It's briny, it's juice doing well to moisten the spongy white bread and pita. The olives are firm, green, and drizzled with olive oil. I love the bread which is incredibly fresh, and polish off half the basket to myself, dipping the bread chunks generously in olive oil.
Mains are ordered, as is a pizza to share. Despite my conviction that I would get a pizza to myself, the pasta selection is incredibly tantalizing, and all three of us opt for different kinds of semolina entrees.
To keep things simple in the anticipation of heavy mains, and out of consideration for the vegetarianism of one guest, the simplest pizza is ordered- a classic Margherita ($13). In the traditional style, this pizza is only tomato sauce and mozzarella. Such simplicity requires the very best ingredients, which are readily supplied. The pizza arrives steaming, blisters on the soft and dusty crust. It's great. My first Neapolitan pizza! The dough is really the most important thing here, I realize, cutting through it with a knife and a bit of difficulty. Incredibly naan-like in thickness and doughiness, I felt like this recipe could have been passed down from nonna to nonna for centuries (it probably has been). Sensitivity and though has gone into selecting the fixings of the pizza. The buffalo mozzarella is melted and sultry, just adding enough sharp kick to work with the pool of fresh tomato sauce held in the thick dike of crust. It doesn't taste like PIZZA SAUCE, just like gorgeous vine ripe tomatoes, fresh and pureed with nothing to complicate them.
In a move mimicking her hair style, Amanda ordered manicotti. I don't think it was a deliberate choice, but the two big round rolls did look a bit like the big curl on one side of her head. In retrospect, I can see how drawing dinner like this might make Pizza e Pazzi a little less appealing to future patrons...we found no hair in our food! Not even our own. So forgive my drawings, sometimes I forget that putting one and one together occasionally equals eww.
Understated and simple, the manicotti was pleasant and satisfying without doing anything unpredictable, or being bold enough to really shock the taste buds. Soft spinach and ricotta stuffed pasta was ladled with that same fresh, sunny tomato sauce. It tastes sweet since there isn't too much salt, and everything is brought together simply with little added frills. The thick pasta makes it a pleasantly heavy dish, and it's alright that there's no side of salad to go along with it. The fresh basil leaf added a nice kick, and there was a taste of mushroom throughout.
Let's swing over to another extreme- the amazing experience
Laura
ordered. If the manicotti was a bit plain, Pizza e Pazzi went out of their way to make this spaghetti alla puttenesca ($14) incredibly bold. They combined the saltiest, briniest ingredients- puckered black olives shrunken with ripeness, juice laden capers (I've never been a fan), and stringy bits of tuna and zippy anchovy. The tomato sauce was lumpy with fish, just like mariners take on a bolognaise. It was INCREDIBLY fishy! I wonder if they needed two kinds of fish? Everything was salty but the tomato sauce was still fresh, so in the end it wasn't an overpowering experience- just bold and flavourful. And huge! What a generous portion of spaghetti!
I also ordered a pasta dish to myself, choosing the appealing sounding ear-shaped pasta, oreciette alle cime di rape ($14). When it arrived, I kept thinking of ninja turtles- it reminds me a lot of more of turtle shell than of ears! Dude. This was another dish with anchovy, a fish I'm happy to see get so much love on a menu (it's one of those oft-sustainable fishies). Like the manicotti before it, the orechiette may have suffered from a lack of boldness! It was buttery with olive oil, and bitter from the rapini, two flavours which did make for a fun back and forth over my palate. I wish there had been more to it than those crisp first notes. Even the spice from the anchovies and a few chili flakes left quickly. Perhaps it isn't bad to have a light and fresh pasta in the summer, but I should know that when I order pasta, I want something that leaves me feeling heavy. I enjoyed the smoky finish with my beer, and it was over all too quickly. Next time, I'll order something with cheese!