If asked about the best croissant in Toronto, you're going to get a lot of replies. Every pastry chef I've worked with will always claim that their croissant is the best, the most authentic. I've heard that boasted about of the gargantuan sugar monstrosities from the last (ever!) caf
é
I worked at, as well as the crisp, intricately folded butter viennoiseries from the AGO. Everyone has an opinion, but I hear most people say that
Nad

è
ge
is the place to go this side of the pond. Don't be surprised. The pastry chef behind, and carrying the name of the caf
é
was born in France, and her work has earned her creations the highest awards. All this, located in a beautiful and brightly lit little shop at the southeast corner of Trinity Bellwoods park, perfect for taking treats to a picnic.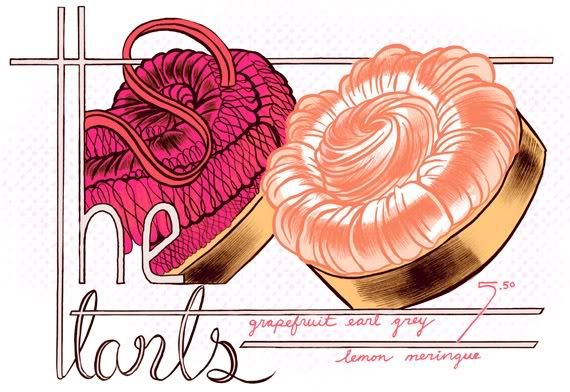 It's Saturday, and this is breakfast. My idea was
'to hell with a savoury meal'
, and what better way to have an indulgent breakfast without losing all my teeth to cavities than with these pastries that are crafted with greater sensitivity to
flavour
than the average sweet. My sister and I ordered a tart each. For the longest time I haven't been a fan of lemon meringue pie. It's sticky, the lemon is as strong as dish detergent, the meringue is usually false tasting. I've been eating cheap lemon meringue pie, and it has left an unshakable aftertaste- until Nad
ège. It wasn't me who ordered this either, for lo! my prejudice could not be shaken. And then I tried some. This is not a gelatin stuffed pie, rather it is laden with a lemony custard, which was creamy and sweet. The meringue was a breath of whipped air, the foam from a childhood bubble bath. For all its volume, it was barely there.
To entertain a recent and unfortunately unseasonal obsession of mine, I selected a tart which was elegantly draped in dark pink grapefruit fillets. So juicy there was no avoiding a constant chin dribble, the fresh fruit did a lot to overpower the earl grey infused in the pasty filling underneath. It was more solid than the custard, a filling with the texture of marzipan. The crust of the pies were hard in a solid way, staunchly supporting the weights piles in their shells. They refused sogginess outright. I found my tart wonderfully refreshing for a hot summers morning, but was wanting more of that earl grey taste. The home-candied orange peel made a nice sharp splash.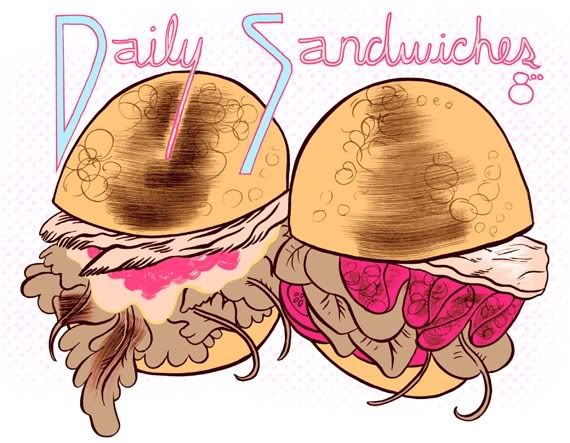 Even though it was my vow not to order anything bordering on lunchlike or savoury, I couldn't dissuade my party from seeking more substantial sustenance (keep reading, I myself fell into this trap later). Nad
ège offers an array of freshly prepared sandwiches on French boule to choose from, the selection seasonal and rotating. Here we have a sandwich with turkey, cranberry sauce, Gruyere and tomato, and one with salami, arugula, brie and tomato. I only had a couple nibbles of each. What was most amazing were these hugely circular buns, their chewy and dark crust, their fluffy white bodies that defied gravity mockingly. The meat was piled high in them both, and the cheeses were not shy, melting and offering up their flavors to complement. I am so happy these weren't ruined with a panini press, too. I love the body of an unsquashed sandwich, it is so much more filling. Give me bread, or leave me, life!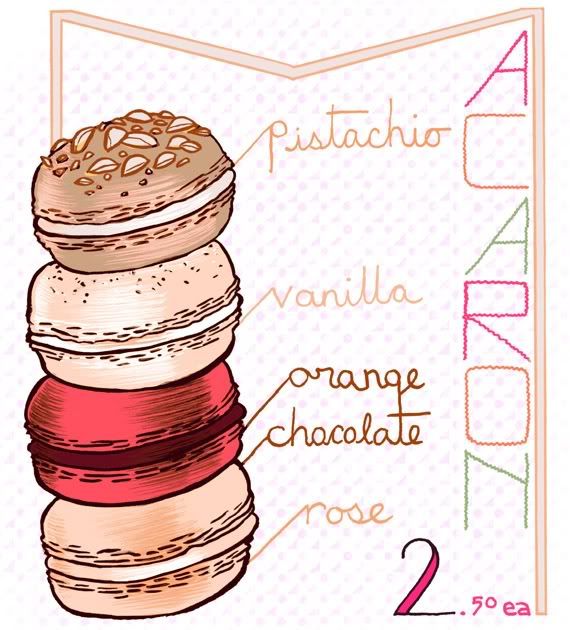 A real French cafe is nothing without
an arsenal of these sugar puff bullets. Much more quiet than the cupcake and whoopie pie revolutions is the macaron coup. These kisses land on your lips like delicate butterflies, their sugar shells only putting up a sweet resistance to breaking, crackling over a gummy recess, which bears down on clever ganache. I say clever because these flavours are more ambitious than others I've seen. Our selection today was very vanilla in the literal and figurative, but with flavours ranging from rose to cassis to savoury plays, the colourful display of the macarons at
Nad
ège leaves nothing to the imagination. She's thought of it all. From our selection the chocolate orange won for the dollop of pasted orange rind waiting in ambush at the core of the mild, bitter-sweet cocoa ganache.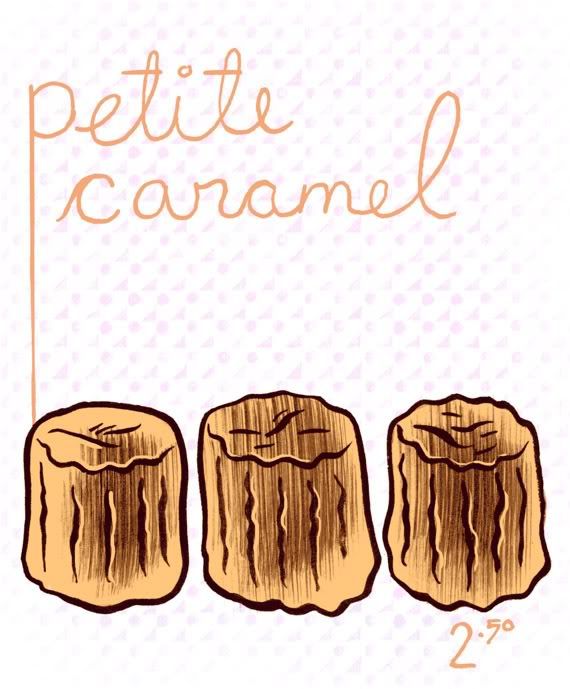 they look like a row of fez! More cake than caramel, these thimble-sized buttons went well with my coffee. They were very glutinous with tacky, dense shells. The flavour was aiming for the salty sweetness most caramel treats want, but I personally like less subtlety than these offered, for once. Maybe I have a salt tooth across the ridge from my sweet tooth. The taste was like a creme brul
é, with the texture of an English bread pudding. A bite and a half each.

A spin on the classic almond spongecake, these madeleines are laced with cocoa. Just what the sweets junkie in me craves with coffee! Unlike everything else we ordered, these came from the boutique part of the shop, where pre-packed treats ask to go home with you. There they sat taunting me, winking and half-hidden in a shiny plastic cylinder, not waiting long to be taken in hand. The americano I ordered along with them was watery, not strong and much too small, unfortunately. These little cakes were very nice! I don't think they were fresh from that day, they weren't as moist as other madeleines I've tried. These were puffy and proud, the chocolate delicate. Their more dry texture and depth was ideal for nibbling at between sips. Still, I think I prefer fresh- what was I thinking ordering these with a display case of still-warm croissants to taunt me?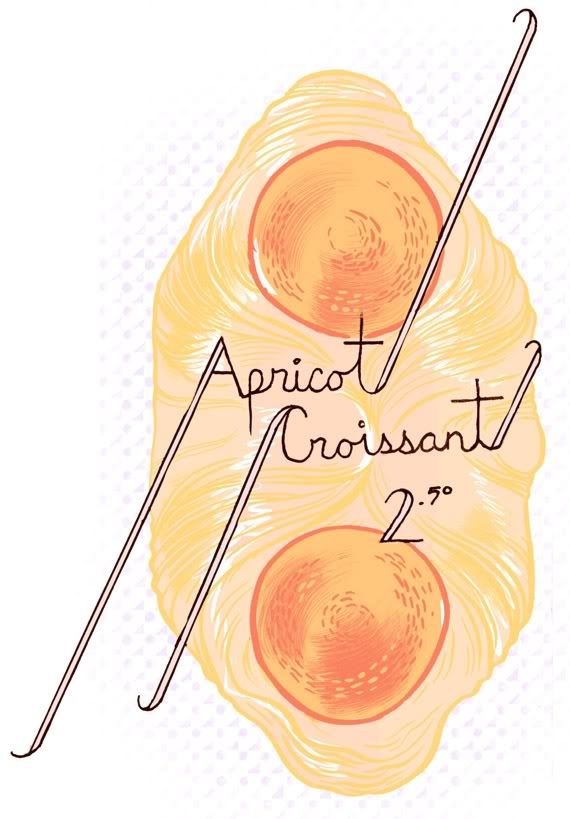 And here is the breadwinner of Nad
ège's family of cakes, candies and delights. There were many varieties of croissant to try. The seasonal apricot croissant made a big splash at our table, and really blew me away.
Nad
ège makes croissants like small dreams. Forget what you've experienced before, butter-drenched and heavy. These croissants are French bread, and they lift you up. The glaze was modest and stood back to let the fruit and its vehicle dance on the taste buds. The apricot was so strong and summery, almost cloying in its intensity. The pastry flaked away and took in the egg wash and natural sugars to become this sweet treat. The best thing we had, I think.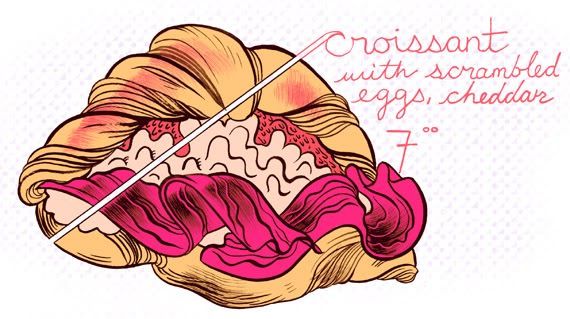 To end on another savoury note and with a beloved croissant, the breakfast sandwich. It was so good that after a bite from someone else, I got up and ordered my own! Even after the tart, the madeleines, the caramels, the macarons...oh my. This butter croissant layered as lightly as a philo pastry, the thin sheaves staying together despite by vigorous bites. The crust was so airy and delicate that the sandwich was hardly there. Were these friendly eggs, this papery bacon holding themselves together with the help of gluey cheese? The bacon was crisp without being well done, able to hold that texture by virtue of its slimness. The tomato hiding under it all was fresh and firm. I think I would have liked it a little more if it weren't heated to order, but I confess, I'm besotted.