A while ago I got to check out
Hot Beans,
which is a burrito place down in Kensington Market. I was really impressed with the food and the painfully huge proportions. Those floury and dense burritos scored major points for their originality as well as their size. They are also a
vegan
joint, just like the recently opened
Hogtown Vegan
which has the same owners but lives in a completely different neighborhood (you can find it at 834 Bloor West). With fond memories of the good nosh at Hot Beans, I spent some time in the west end to try out the new restaurant, and see what the daring vegan chefs are up to. I will confess I was relieved that the portions were more manageable!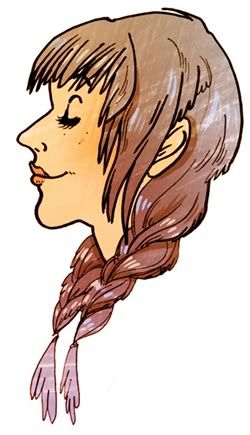 For once I took made the extra effort to sample this restaurant in two trips, really wanting to get a good feel for what they have to offer. The first time I went with the lovely
Sabrina Scott
, a fellow illustrator and entrepreneur- and a vegan, so I could get a proper perspective of how The Hogtown Vegan measures for someone who lives on the diet. It was pretty good to talk shop over cold ice tea, and hot lunch!
In case you've been sleeping in a cave this last year, Toronto is experiencing a comfort food revival. Since many of the vegetarian and vegan restaurants in the city follow a stance that puts healthy food hand-in-hand with their elected restriction on ingredients, so the movement hasn't been reflected by card holders of the
Toronto Vegetarian Association
. While every cafe and restaurant with an ear to trends started boiling up batches of macaroni sauced in bechamel, baked in cheddar, drenched in Mornay, vegetarian restaurants have kept to their soba noodles (a stereotype as unfortunate as it is true). And along came The Hogtown Vegan.... their slogan even boasts 'Vegan Comfort Food in the Heart of Downtown!'. For Sabrina, it was a treat... Mac 'n' cheese? Oh yes. I've never given faux-cheese much of a chance. When I make vegan dishes at home, I just make food that doesn't need those ingredients, so I'm not making substitutions. I found the sauce on this mac and cheese a little on the wet side, but it still clung to the noodles valiantly. The taste was salty and a bit floury. Even though it did taste like cheese, it was a very mild taste, and the noodles reigned supreme in the dish. I know there was no butter used to make the pasta, but wow, the flavour reminded me of butter! What's nice about this mac is that even though it hits that lovely comfort food carb craving, it isn't as bloating as real-cheese mac. Pretty good!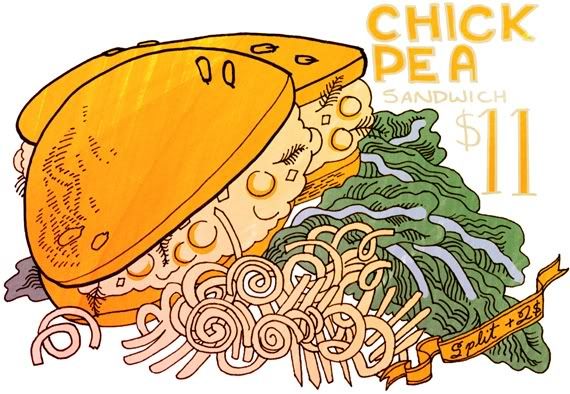 On this first visit, I saw one thing on the menu and HAD to order it. It was after reading a recipe from
le sauce
that I became a bit obsessed with trying the wonder of pulled jackfruit. I haven't had time to try the recipe at home...and Hogtown Vegan has a version of jackfruit pulled pork! And...they were sold out, two hours after opening! Sadness filled me! Fortunately so did this chick pea salad sandwich, once I chose it to plug my saddened stomach. Sad no longer! There was so much from texture to taste that reminded me of a creamy summer potato salad, I momentarily wondered what I was eating. With tiny flecks of dill pickle, and fresh dashes of the same herb, the naturally creamy-when-creamed texture of the chick peas went a long way to completely what I'm sure was an unintentional illusion. Under a bed of a sprouts was a hint of mustard. The sunflower bread was very intriguing! It was like two robust, orange coloured pancakes instead of sliced bread, and I really enjoyed the novelty of the texture.
All sandwiches come with a choice of fries, collard greens or salad, but I really wanted to split. That costs an extra 2$, but for once I found the surcharge worth it. There was so much good food. Both the oily squigle fries with their crispy ends and the smooth, garlicky collards were super satisfying.
Drink selection leaves something to be desired! There's no liquor license in effect at The HTV, and what was available was a mix of homemade (like this tea, which was like mildly tea-flavoured, tart sugar water- good, if you don't like strong tea), and some bottled stuff, like lemonade. It would be great if they expand to include some alcoholic beverages, or fresh squeezed juice.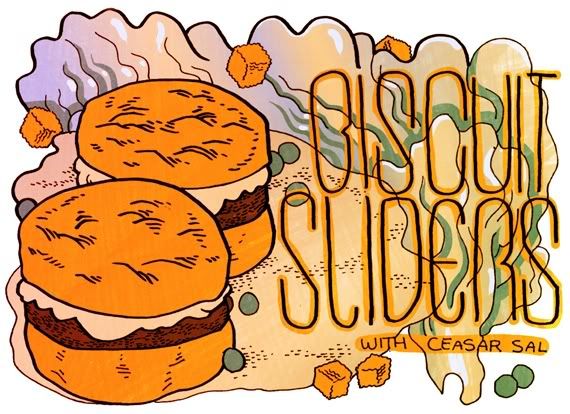 Visit number two debuted with something familiar to anyone whose ever made that first dip into non-meat waters: a veggie patty. These mini patties were of the common soy blend variety, brown and spongy in texture, with a flavour all their own. It is the kind of soy patty you can get at the local supermarket, with nothing to make it stand out as particularly noteworthy. The presentation made this more exciting, though! The biscuits, ordered by my guest Bentley, were fluffy and fell square between sweet scone and savoury biscuit. They also sparked a debate about the benefits and downfalls of Bisquick. I'm am a huge proponent of biscuits made from scratch, and I like them to be super fluffy and dry, with a light taste of soda- no sweetness at all! Like I said, the ones at Hogtown have a little sweetness. That is my bias, though, since my mother would bake amazing biscuits for us weekly.
The ceasar salad tasted exactly how you would want it to, the sauce tasting like nothing out of the ordinary. It was a delicious treat for a vegan, avoiding both dairy and anchovy! I was most impressed by the 'gravy', though. Not only was it studded with tiny peas, but it tasted like wholesome meat gravy made from the drippings at the bottom of a roast. And yet, vegan! So inventive and well crafted.
Guess what I tried to order a second time! The pulled jackfruit sandwich. Guess what they were out of! A! Second! Time! I was pretty disappointed. Here is an item that is clearly a major hit- it's probably time to start making bigger batches, guys. Maybe enough to last at least an hour or two after opening? Sigh. I turned my eyes instead to a most intriguing item: Reuben a-la seitan. I'm not the biggest proponent of seitan, not just because of the name (I find it impossible to say with a straight face). I like tofu and tempeh, and am happy with most fake-beefs. The seitan nugg's I've had in the past are just...squidgy. It's a textural issue. An issue which was cleverly avoided here. Large pieces of seitan were sliced deli style into medium-thick strips. It's a tall order to recreate the fatty and marbled texture of good deli, but this was an effort. The result was perhaps more like pepperoni, the 'meat' having fine pores and sweating with light oil. It was piled up, the taste not as briny and sweet as the real deal, but not unsatisfying. I was actually quite in love with the sauerkraut which is what made this actually taste like a Reuben! There was a generous amount under the straining rye. As a side I went for those garlicky collards again. Try them! You'll love them.
All this classic omni dish impersonation raised an interesting conversation about the nature of vegan restaurants. Bentley's observation was that so much of the menu was an attempt to reproduce familiar meat and dairy meals- Reuben, pulled 'pork', unchicken and waffles- and that with vegan restaurants in general the food doesn't embrace its own vegan-ness enough, or try to create something unapologetically vegan. I see things differently. Most of the veg places I've dined at fit the narrow view of health-food lettuce leafy fare. There's nothing wrong with that, but I think there could be much more interesting things done at veg/vegan restaurants. I don't necessarily mean veg/vegan foods which seek to imitate an omni equivalent. I mean dishes which don't just try to fill the niche, but try to compete with fine dining restaurants and offer a really unique food experience. I feel that maybe more than any other place, the food at The Hogtown Vegan is on to something (it's just too bad about the horrible interior decorating!).
What do you think?