Other than it's annual festival of food excess, restaurants on the Danforth don't get a lot of love. Even though I regularly bike between Broadview and Pape, when it comes to dinner I'm more likely to be found on the west end. It's such a shame, because there's much more than souvlaki and baklava along the Greektown strip. Most recently added to this street of good food is the not-quite-Mexican not-quite-American resto
The Combine Eatery
, which is about a month old now. I bet this is the
only
place in Toronto where you can get a meatloaf
and
tacos!
Biking past the brown paper pasted glass every day, I really developed a sense of anticipation for the grand opening of The Combine. I could never see what was happening behind those obfuscated windows, but everything I heard was tense with expectation. One day the paper was down and the door was open, and I knew my waiting was over!
I am not as interested in having a dining place look like a million bucks so long as it's comfortable and easy to navigate (and clean). I think The Combine is a little crowded (at the end of the night when leaving our table, I practically had to duck under to leave from the bench side). All of their benches are old church pews, which aren't easy to lounge in. The rest is lovely. There's a mix of 20's speakeasy style (oxblood coloured embossed tin wall, art-deco white lamps), as well as a reno'd barn-yard feel, a style I've noticed in a lot of new restaurants. It's decorated with old things, wood beams, made to look new again. There's a shelf with electric green bonsai- it's a combination of influences as varied as the food.
To start I jump on the lobster fritters (15.95) and it's no challenge to get my seafood-loving friends to split them with me. There's six to a plate, and they're a nice plump size. Basically the fritters are hush-puppies, carefully created deep fried dough balls. They're crisp all the way through, only a bit spongy at the middle and taste like corn and white wine. The lobster is not very strong, just adding a taste of fresh fish to the golden-fried, spiky dough. They came with a firm sour cream, and chipotle aioli, which tasted strongly of paprika. The smoke went well with the corn and hint of sweet pepper in the fritters.
One thing that will guarantee that the Combine has a successful career is the variety their menu boasts. Though getting known for succulent tacos, there are also burritos, mainstream entrees, not-dull salads, and burgers to choose from. With a small admonishment to himself for not being adventurous (to which we protested), Pietro gets a cheeseburger (15.95). American classic! While it might not seem like the boldest thing on the menu, a good burger is not something that happens by accident. We quickly learn that The Combine cherishes their meat. It's a delightful combination of sweet and succulent beef, rich with oils and clean flavours. It's a proud slab of ground meat on a flour-dusted ciabatta bun, and winds up with a nuanced flavour. The side of fries are thin and crispy, translucent from the fryer. They're very salty!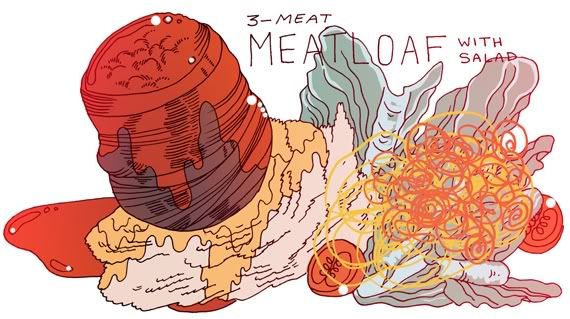 From the entrees, I eyeball a rather intimidating order of meatloaf. It's not something I was raised on, meatloaf doesn't occupy some warm and cuddly bunker of tradition in my heart. A big hunk of meat normally wouldn't catch my eye. When you take sweet juicy pork, mix is with bold rich beef, add the creamy texture of veal and wrap it in double smoked bacon, it's no longer
just a hunk of meat
. This was a masterpiece. It arrived capping a small heap of garlicky mashed potato, like a hat. Each meatloaf must be baked individually, it clearly hadn't come from a loaf pan. The gravy was mellow with a light bitterness from the scrapings, tied together with the salty richness of soy. The loaf itself was full, the texture fine and smooth, somewhere between ground beef and pate. I think that some bread crumb was used as a filler, but it tasted like fresh, rustic red fife. All those meats made a cacophony of flavors, along with gravy and a hint of onion. It must have been slow cooked for hours.
Someone HAD to order the tacos, which we saw passing by on long plates to other tables, their soft shells laden with fish or chicken or pork.
Molly
ordered the so-cal style grilled fish tacos (15.95). An order comes with three. the soft tacos have a skin made of corn flour, chewy and toothsome. The fish itself was piled in little lumps under diced tomato and macerated iceberg. The mayo also tasted of corn, and I thought there was a hint of coconut in it. Surprisingly tropical tasting tacos! The guacamole was sweet, but bold and firm as well, not nearly as garlicky as I've had elsewhere.
Dessert was debated for a while. We were all pretty satisfied from the food we'd had. It was the display of blueberry beignets (7.95) steadily marched to each other table at the end of their meals that convinced us to eat once more. A big disk of chewy fried dough sat on a throne of blueberries. The crown was a ball of soft vanilla ice cream rolled in crushed pecan. The beignet was very tough- it wasn't easy to split, and we didn't have any knives! Chewy as jerky, the flavour was wonderful, like a more confident doughnut with fresh berries, but it was a challenge to get through. The ice cream melted over the hot dough quickly, and the shallow square dish meant we had to abandon the creamy juice after the first couple bites. The mix of salty and sweet, chewy and soft made for a fun dessert, but maybe more of a challenge to eat than I would want to handle regularly.
By this time the cathedral-like proportions of the Combine had started to work against its patrons, and we could hardly hear one another across the crowded table. It's popularity is burgeoning! We quickly escaped the over-air conditioned hall for the warm night air, and a walk home that would help us digest all the loveliness we ate.