It maybe a surprise, but I've never been to
Pizzeria Libretto
. It may yet be one of my sweet city's most lauded hot spots, standing the test of time. I should add that last tentatively, since they've been open just a short 2 years now? And the throng stays strong! In fact, the popularity of the contemporary neapolitan pizza place is such that they recently opened a second location at
550 Danforth Avenue
...just a hop, skip and a jump away from me, wouldn't you know! The two menu's have different items available, so what you're used to eating at Ossington may not be what you get at Danforth! I would really like to try the rapini pie in the future, but I think Danforth might have the sexier dessert menu (we were too full to try).
To taste the Danforth pies, I teamed up with one of my blogging inspirations, and collaborator on the "One Cup Sketch" series (to return in the new year), Yasmin Seneviratne- she runs
Le Sauce
. Very worthy of a visit!
Salads to start, as we planned on having a slow and enjoyable meal. With a pizza each, the greens were a light way to begin. This one, the Endive and Grapefruit ($11) was small, served in the center of a big white dish, creamy vinaigrette hardly denting the flavour. When you have rosy, meaty grapefruit, sauce isn't that important. Even though the endive is a headliner, I found the traces of golden beet to really take over, with their sweetness and memory of fresh dug earth. I like this salad because it is watery and refreshing, and the walnuts are candied, toasted to make a nice sweet crunch.
It's probably the signature dish at Libretto, that big-name baller that every meat eater has to try on a kind of gut level. It has confit duck? I am getting THAT! we cry out upon perusal of the menu in its fancy italics, eyes hanging on the promise of fat fowl and tart seasonal fruit. The Duck Confit ($17) pizza really delivered, though it wasn't quite what I expected. It was not so fatty, the duck meat reduced to a tender ragu. It took me some time to place it, but the flavour if like Christmas on a crust. Stuck without family this holiday? come to Libretto, it tastes like turkey, but sweeter and more tender. These pizza's are seared in a whopping 900 degrees. The dough cools fast because it's thin, but remains elastic, full of personality. It's delicate flavour is an unassuming vessel for shards of equally humble pear. The duck is a salty attention hog- as it should be. The salt tastes bright, brought to this clarity by the perfect amount of fresh olive oil. The mozza cools and solidifies pretty quickly.
It makes delicious leftovers, as in the end it was more than I could eat.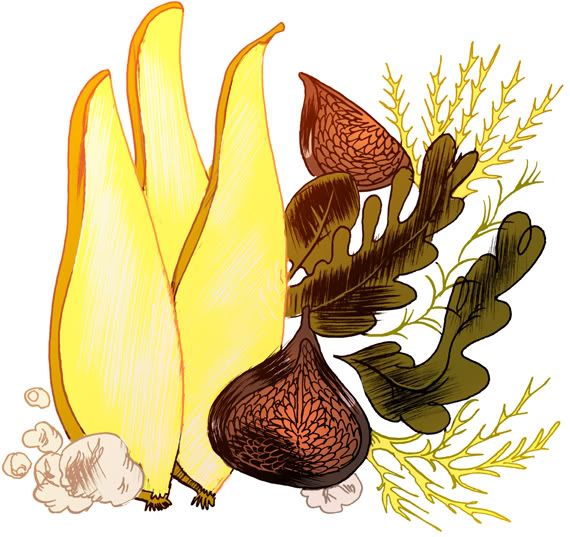 I was not alone desire to start with something fresh! Yasmin also got a salad. I'll take a moment here to talk about the service. It's a very hipster joint, I was really surprised. The staff look like they all come from OCAD (I would know!), all laid back and cool, and surprisingly attentive. I mean. For hipster staff. What does that even mean anymore? Hipster? Isn't that pretty much the majority now? I'm probably a confused pup. They keep a good eye on their tables, though! No sooner than the last crumb of blue cheese left the plate, and our pies were in the over, and 90 seconds later, at our table. Kudos! Our glasses were always full.
So, this salad! I tried a little, and it was what you would expect of a carefully handled fruit and greens salad. Refreshing, crisp, the pears adding a little acidity, but mostly crispness. Yasmin and I both fawned over the figs (so many tastes in a common!). They were fat little guys. The blue cheese was very musky, with evil blue veins. the dressing was a lightly salted oil, which quietly let the fruits do the talking.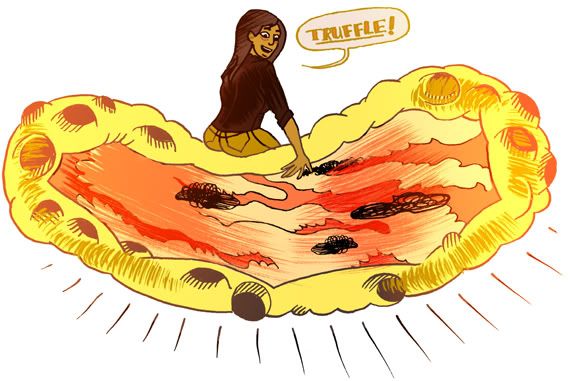 And finally, the last pizza! Even though this one is named the Quattro formaggi ($18) for it's
buffala mozzarella, montasio, moliterno and parmigiano reggiano
, Yasmin summed it up more aptly: "the truffle pizza". The almost liquid black fungi pools look ominous, and taste amazing. I don't think I've honed my taste buds to truffle though, and I felt overwhelmed by the amazing and complex mix of cheeses. It was strong, with pleasantly stinky mozarella, dry and wakening parmessan, and a creamy blend of moliterno and montasio. I think I have a lot to learn about cheese, actually, and may wander of to Cheese Magic to experiment with flavours. In the end, I think what I loved the most here was the clear fresh tomato sauce, as simple and as enjoyable as the day.