Like a bolt of hot pink lightning from the sky, everyone is jittering with the words GRAND and ELECTRIC (or so it seems to me). When did this happen? Even before they opened their doors at 1330 Queen West, the new hot house of heavenly food was bursting with good reputation. I will spare you the repeat of
Grand Electric
's history, which can be summed up better by mind with more knowledge of what happens behind kitchen doors. I'm here to talk about food.
I'm also here, briefly, to talk about type. I never thought much of illegible lettering until Michael DeForge (a talent who exploded into recognition the last couple years in the comics realm)
wrote a bit about it
, and
his own experiments
with the tough lettering. It gave me a new appreciation for words you have to work to enjoy, but I never felt I have a good chance to try it out. Drawn and Devoured is about food, and drawing, and it is also intended to give me room to practice my lettering. I enjoy it but have a long way to go to achieve any great skill. With their punk music and their in your face attitude, Grand Electric presented me with a muse for aggressive letters!
You should call and listen to the voicemail. Sassy.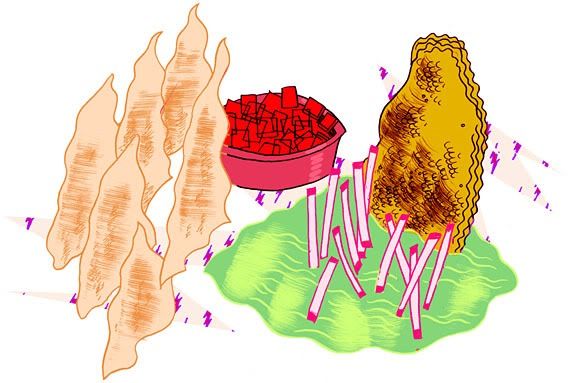 By now menus in the form of photographs and word of mouth have filtered out into the universe of people with their ears and eyes open to what's up with Toronto food. I went to Grand Electric not really knowing what to expect other than a very, very long list of bourbon. The menu, modest in size and promising in turn of phrase, is Mexican inspired, with some Canadian ingredients thrown into the mix to add a little local love. This Guac + Chips was good and simple, very unassuming. The chips were floury and hard, oil and crisp. These are good things, but different. I could really taste the corn. Both the pico and guac themselves were very traditional, just a hint of cilantro added to make them more than just tomato, or more than just avocado. The pork rind was sweet, salty, puffy and delightfully smoky.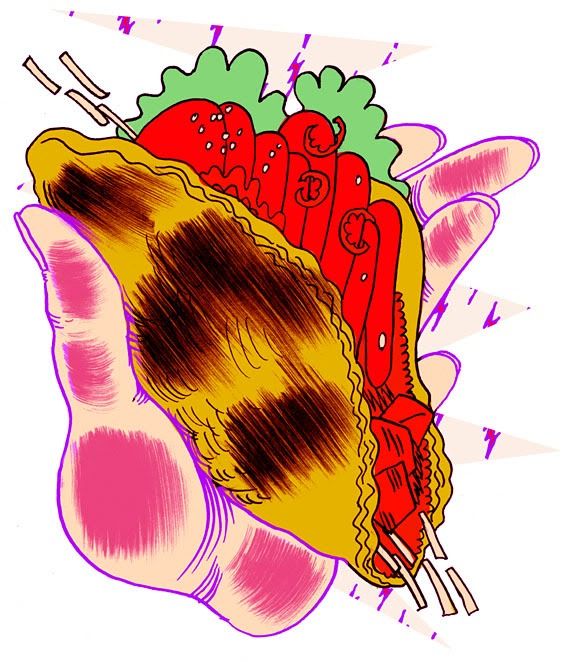 This picture is a bit of a misrepresentation! You can get one Taco or three in a go at Grand Electric, and they're small softies, their shells gently cradling a variety of fillings. you can choose beef cheek, baja fish, arbol chicken or pork belly al pastor. We ordered one of each, but wound up with two beef and no fish, so that was kind of too bad. The dimly lit restaurant IS still in it's first month, and is inundated with people vying for attention and food. We could also have asked for a correction I suppose, but instead went ahead and ate what we were given!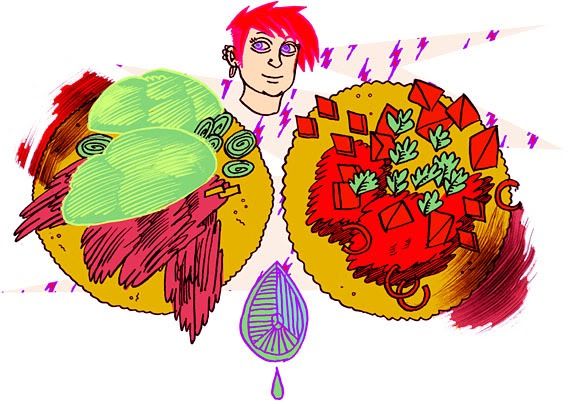 The tortilla has the most pronounced flavour out of all the ingredients of each taco. It's yellow and corny, and goes great with the house salsas on the table. They're surprisingly flaky and elastic at the same time. When eating these tacos, the flavours do melt together very easily. The pork belly has a spicy aftertaste, and mostly taste of cilantro and sweet ingrained bbq sauce. The beef cheek is FATTY and tender, but could use a little more kick. It taste very simply of beef, and gets overpowered by the waxy wedges of avocado it comes with. The arbol chicken is the winner for me. It's extra hot, the heat hitting like a clear sunny day, it tastes bright. There's something musky like a stinky cheese or natto which really surprises me, because it works. I don't really think there was natto on this taco, but it's what I tasted.
The salad itself is nothing to get excited about. It's very plain, the buttermilk dressing like a less adventurous, tame ranch dressing, the salad itself little more than succulent and meaty Boston lettuce leaves with spears of radish. It's refreshing, but by itself would be disappointing. It comes with this LOVELY croquette of pulled pork, fried to crunchy perfection. It's great broken up on top of the leaves. The pork flakes away in chunks. It tastes like it's been tenderized by sitting in some evil, dark dieu du ciel beer. La fin fu monde! Pas de tout, c'est si delicieux. Pardon my French. The coke reduction is very strong, and the toasted pepita's offer a fun crunch, better than croutons.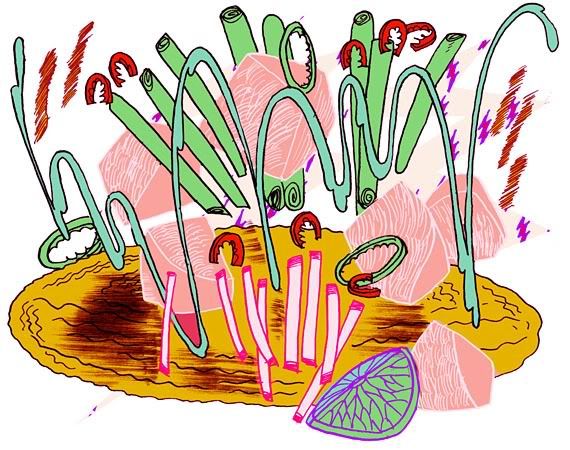 I'm a lover of ceviche. It's the fish that science invented! And it usually tastes fresh and tender and mind blowing. It CERTAINLY did here, and for me this was the best dish of the night. The tostada that the fish and sundry vegetables nested atop was flaky and fried, very corny and homey tasting. It's salty body soaked up the ample amount of SUPER garlicky aioli (so good). There were pickled beans, crisped onions and slivers of jalapeno and deadly Chinese peppers (there is an official name for them that less conveys their evil heat, and it avoids my memory in this moment). The fish is light, translucent, and mellow. It's perfect.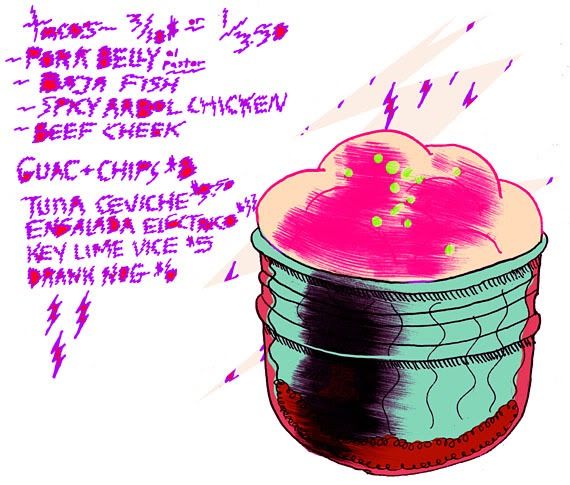 Here's is a little peek at the menu. It's missing some items, like the soup that is apparently the ONE thing you HAVE to get at Grand Electric, and is naturally the one thing we did not get. This key lime pie in a glass jar will take away my sorrow! Dense whipped cream with bright little stars of candied lime rind shaved over it is a good start, and then you get to the filling, which is more custardy than limey. It's refreshing but also very rich, and doesn't taste fake or over the top. The graham crust at the bottom adds just the right amount of sweet comfort, and a touch of vanilla.