Recent events have had me lurking underneath The Bay at Queen Street a few times last week, like some high end alligator, maw open wide. Since I was there and found myself suddenly dinner dateless, I thought it would be a nice chance to check out the very Canadian
Bannock
, a restaurant by
Oliver and Bonacini
. Navigating the PATH can be a little confusing. In this case, Bannocks grab and go section is located somewhere over the subterranean exit of the TTC...one of them, anyhow. Turned around by the lack of daylight and the ensuing destruction of my sense of direction, I found myself stocking up on items at a place called
Foodwares Market
, though their lack of signage on half the cafe had me believing I was, actually, at Bannock. It was only after getting the receipt for a haul that would provide a days worth of meals that I saw the title of the cafe I had just raided. Well! No need to turn back. Though Food Wares doesn't share Bannocks notoriety or appealing name, it turned out to be a happy mistake. It's a cafeteria worth visiting for Toronto's Bay Street workers.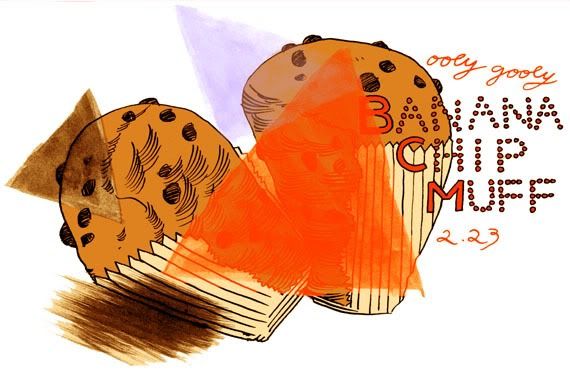 My plan was to have lunch there, and also get some take out items to keep me going through the day. I got to try many things! Ah, the joys of eating by oneself. Breakfast started with a not-super healthy
Banana Chip Muffin ($2.23)
. Once upon a time, the muffin was a modestly sized healthy alternative to breakfast danish and doughnut. Things evolve wickedly, don't they? These muffins are pretty sinful. They aren't the largest I've seen, and the muffin tops aren't towering, but there's more than a couple cubic inches of sweet dough that makes them. Most delicious about them it that their fluffy little hearts are gooey with butter. Have you ever had a cookie from
Le Gourmand
? Imaging that cookie as a muffin. Decadent, warm, creamy, and just enough bitter dark chocolate to make the sweet dough sing. It went damn well with their Illy coffee (not my favourite brand, but nothing to turn ones nose up at).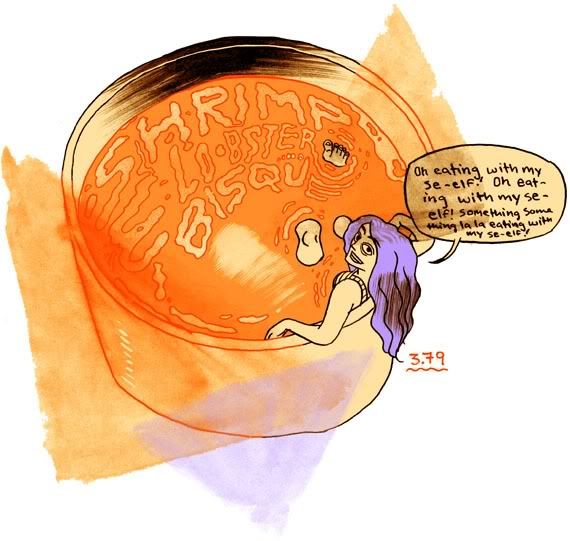 I was back for lunch before hopping onto the subway with some bagged items in tow. Since I had a little time to sit and eat, I got soup and a wrap. The soups come in three sizes, so you can choose if you just want a taste, a hearty bowl, or a meal-sized portion. I went for the middle size, and there were four hot soups in cauldrons to choose from, each piping and appealing. Since I adore my seafood, and rich dishes, the
Shrimp and Lobster Bisque ($3.79)
piqued my interest. It's not a bad price for such a dish either, though it only comes with a little pack of saltines. A hunk of rustic bread costs another dollar. The soup itself was a bit dull. I am tempted to say that that is the error of my taste buds, who were dampened with a hint of the flu on this day. The tomato and cream were smooth and not overwhelming, though the thickness of the soup was palpable. The shellfish had mostly been blended into a pulp, with only a few solid kibbles of shrimp floating throughout. Though savoury and pleasantly hot, I would try something else next time.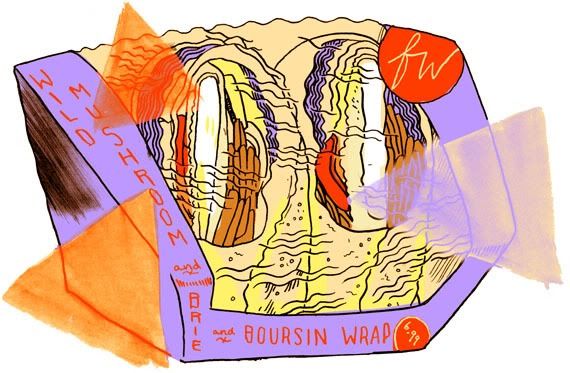 After the hot soup I had a vegetarian wrap. There are a few nice veggie options at Foodwares Market, which is great! I sometimes wind up getting a quick lunch at grocery stores or markets, and the only veg option is usually a mayo-laden egg salad sandwich. Yucko. This
Wild Mushroom, Brie and Boursin Wrap ($6.99)
, comes pre-packaged and ready to go. I think they're made fresh in the morning, eliminating the problem of how quickly wraps get soggy. Thanks to the less-moist ingredients, the wrap was the right mix between juicy and dry, the lettuce coiling within the pita bread to add a crisp layer around the filling. It mostly tastes like fresh dark green lettuce, crunchy cukes and basil leaf, balanced with the luscious cheeses. Between the mushroom and lettuce, and earthy rind from the brie, I was strangely reminded of damp pines after rain, a foresty freshness. With two creamy cheeses though, all that was hard to notice. It would have been nice to know what kind of mushrooms they are, or to know if they're a blend. Perhaps I shouldn't say it was balanced. It's
overwhelming
with cheese!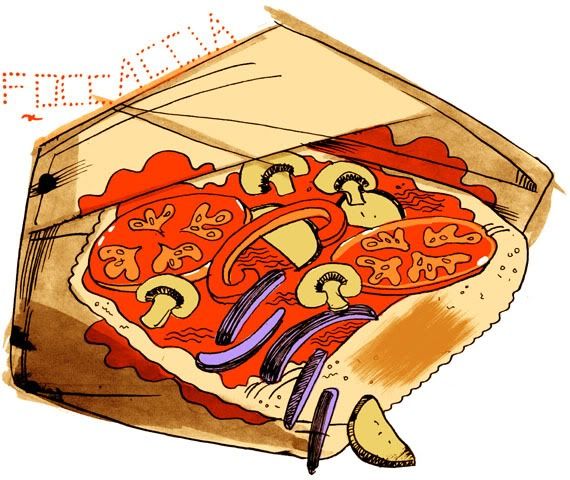 Later on in the day, dinner was a thick piece of
Vegetable Foccacia ($)
that I brought with me. It didn't fare the journey too well, it's juicy garden top having smashed against the roof of the paper bag, a debris of zucchini and onions everywhere. Still, there were loads of veggies still clinging to their spots in the tomato paste, entrenched into a bread that was as airy as it was rustic. Such a contrast between dry spongy crust, dense and a little charred, and the angelic interior, so light. It was pleasant, and the blackened bread made the herbed sauce all the ore refreshing. Pungent onion, mushroom, tomato slices, zucchini and red pepper made for a juicy meal. I'm sure this is even better without suffering the strains of travel, and next time I will have to try it right from the market.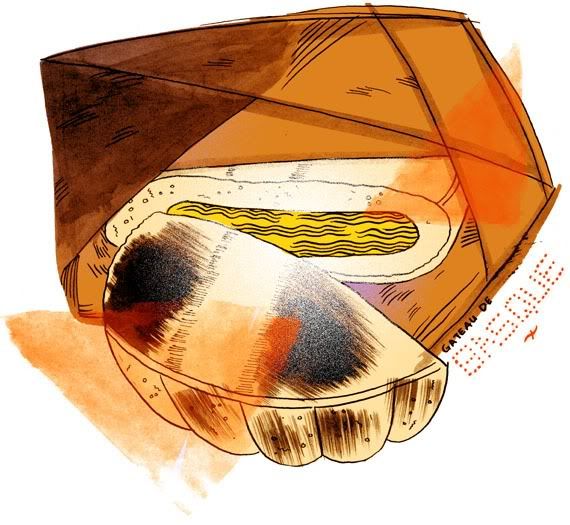 To end on as sweet a note as I started I kept a delightful
Gateau de Basque
with me until late in the night. It preserved quite well from the morning baking, and wasn't stale by the time I got to it. The cake is a sponge, like angel food with heavier grains, the edges and bottom dry and crumby. It's kept moist in the interior by this amazing layer of custard tucked away in the centre, which came as a surprise to me. I think this must be a French kind of doughnut, better than a beignet, more refined and decadent, without a heavy handed coating of glaze. No, here was a darling dusting of powder sugar, as nice to look at as to taste. With a cake not so sweet, it added just enough extra tongue-pleasing sugar. The custard in the cake was the real winner for me, exhibiting all the richness and glue of a Portuguese custard tart. Despite the size of the cake, it didn't sit like a heavy dessert, leaving me satisfied but not bloated.