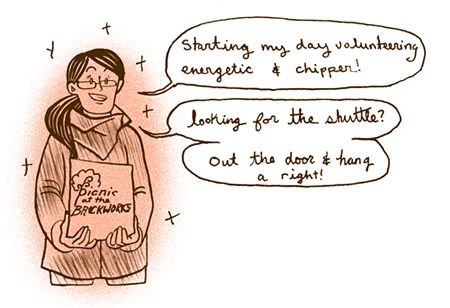 This entry is not the usual fare. If you follow me on
twitter
, you know I've been volunteering for the
Evergreen Brickworks
on my weekends. Gives me a lovely fuzzy feeling inside!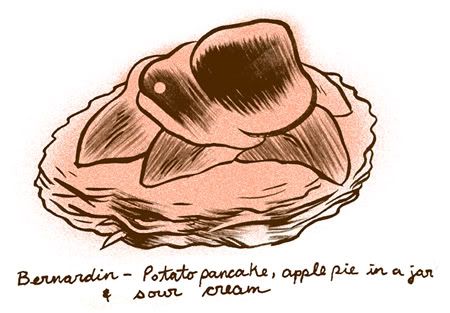 With the added perk of working and thus attending the yearly Picnic, which was this past Sunday. What is the Picnic? It's a terrific event that pairs Toronto chefs, food artisans and beverage makers with local producers to create local and season nibbles for a mass of guests. The ticket price goes towards Evergreens children's programming, towards
Slow Food Toronto
(one of the organizers!), and of course towards paying the vendors.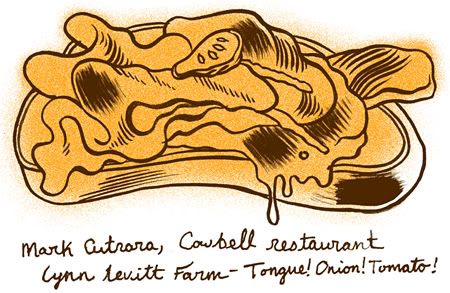 There's dozens of them, and 1500 of us eaters to take advantage of all the talent under one roof!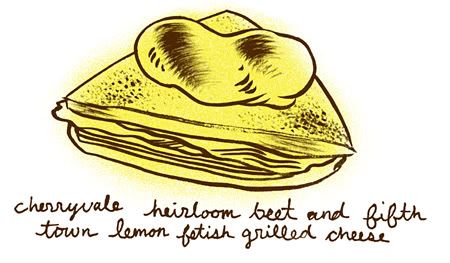 Since this is so different from my usual reviews, I'm taking a different approach. First, it would have been impossible to take notes with one hand holding a laden plate, one clutching a wine glass and fork, and one sneaking out the camera for some ref shots.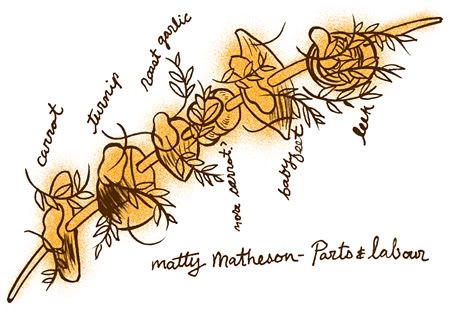 Second, I don't want to review/critique food that doesn't exist outside this amazing event, nor do I want to nitpick the hard work and big-hearted dishes the chefs made! So enjoy some drawings, and let me tell you how the event went for me.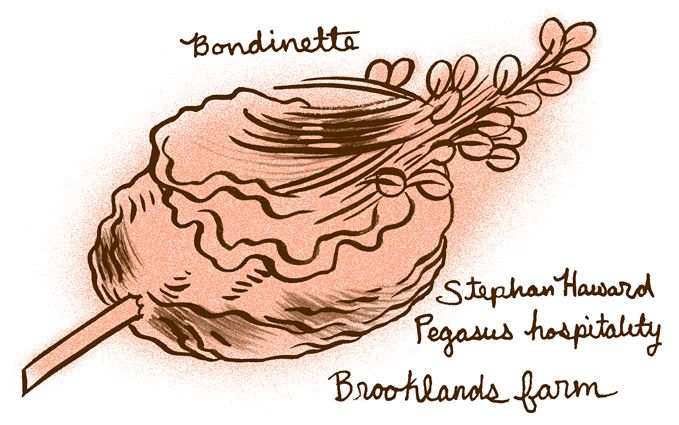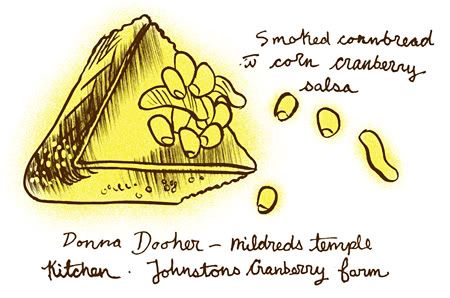 I started out with my volunteer shift, and I was at Broadview station for a few hours directing people to the shuttle buses that would bring them to the tough-to-access Brickworks. It doesn't sound hard, but standing around with a sign as the station flipped from warm to freezing each time the doors opened somehow drained me! I felt sore all over by the end.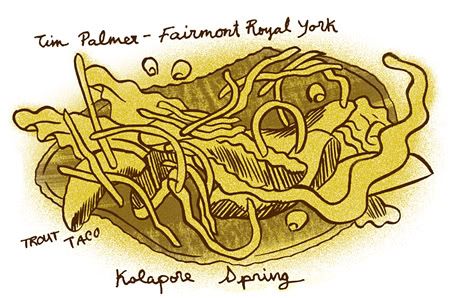 I was also very antsy to get to tasting! I won't deny that affected my patience with the work, as did my clever decision to only have one apple for breakfast and save my appetite for the Picnic.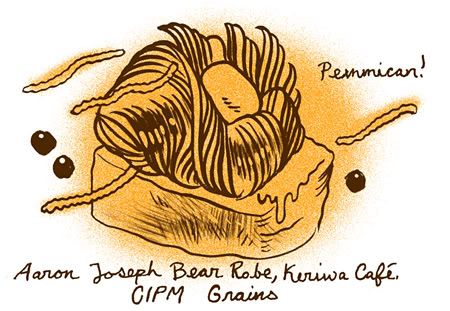 By the time I got to the Brickworks it was 2:30pm, I was shuddering cold, and famished. So the first few things I had to eat were wolfed down with less attention than they deserved.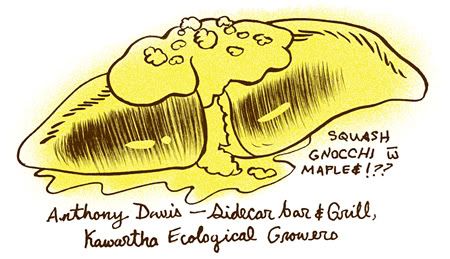 These drawings are chronological by the way! That's why the first few have such partial, blurry information. I was in a hunger daze and took horrible notes, if they were taken at all.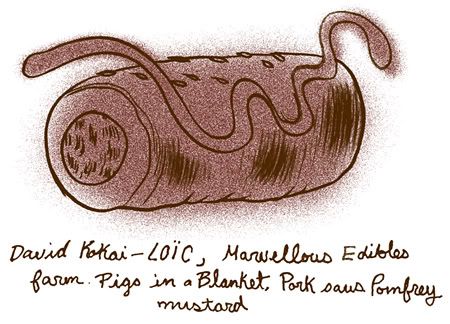 Heat lamps provided momentary relief from the damp. Foggy breath gave everyone a sense of solidarity, and I think we all envied the women and men working hard behind hot flames.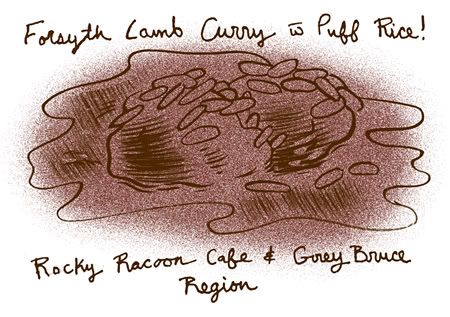 For me there was an added sense of satisfaction because quite a few of the chefs were from restaurants I started this blog with. I was especially tickled to eat the pickled goodies from the Parts & Labour team - they were my first review ever!
It's surprising how few of those places I've managed to get back to. It's always somewhere new every week! Which is a lot of fun, but especially for restaurants whose menus change fast, I'm missing out a bit.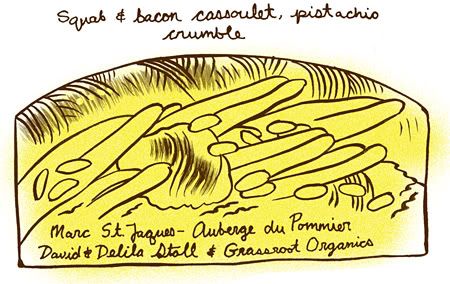 The cold did more than just bring everyone together. It had an effect on the food. Everything was great, but most of these dishes would be ideal at room temperature. You could tell the chill had a dampening effect on aroma.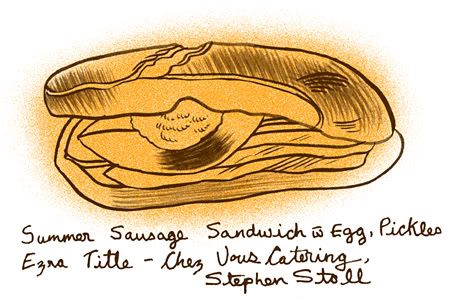 It also meant that every beer I had was the best I'd ever tasted. Naturally frosty. The white wine was also shining that night! Mmm, Tawse. Mmm, Henry of Pelham! But the reds were suffering.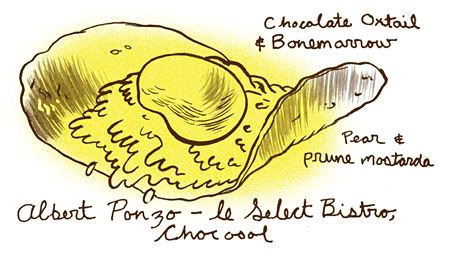 After my initial rampage I slowed down and set a more appropriate grazing pace. I don't think I realized how full I was going to get after that first burst.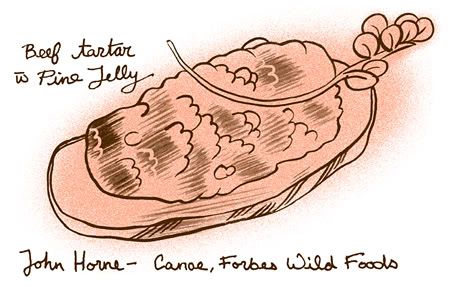 When I left my volunteer post, I was worried I had left too early, since no one had come to relieve me. It's good I left when I did, because some tables started closing at 3:30! Just an hour after I was back.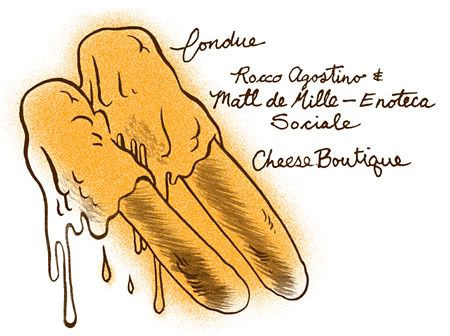 I missed out on some tables who were very popular, whose food didn't last long. Even though I saw some chefs from FRANK at the AGO wandering around, their table was long closed! They had had something wrapped in a husk that looked great.
Other than some crusty bread loaves which were more for display, Woodlot had also caved under the demand, and were empty.
The feeling as the food began to dwindle was of a soporific party, people swaying to the live music, some red cheeks more from the wine samples than the frosty breeze.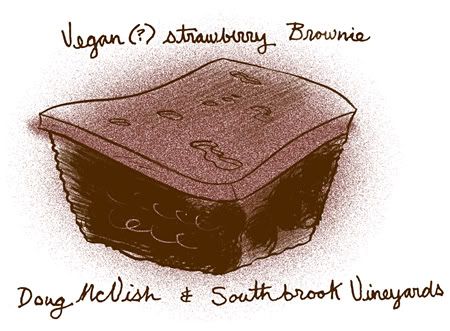 People smiled and danced with each other, bonding over a love of Toronto, of food. We shared in our appreciation of the hard work of chefs and producers alike to bring us an event like the Picnic.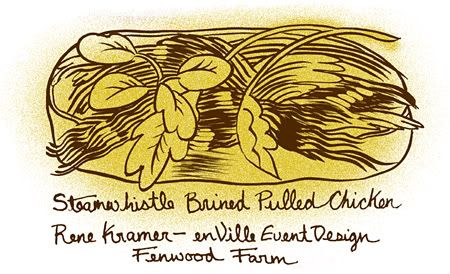 I ran around trying to find tables that maybe I had missed in the dine and bustle, tossed around in the sea of people. I ran into Becky who organizes the volunteers and claimed I was only about 2/3 full, but the truth was much grimmer.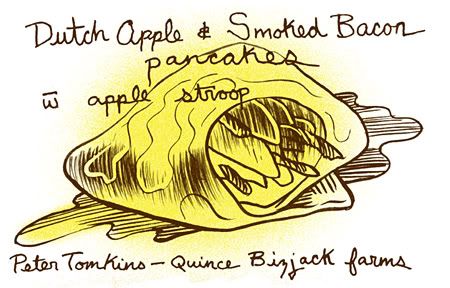 For the next picnic, or maybe the Underground Market if I go to the upcoming one, I have learned a valuable lesson.
Keep a count. If you're like me, with legs as hollow as your head, you might find that an appetite driven my community love and appreciation knows no reason or moderation. You can count how many things I sampled, and everything was about 3 ounces or so.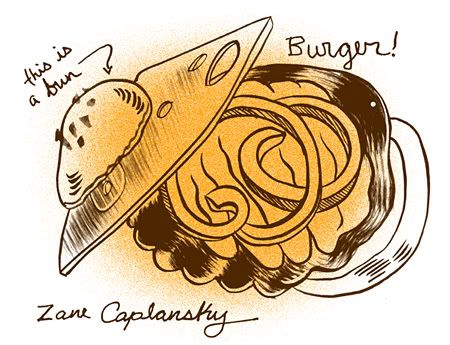 What is the maximum size of the human stomach? I had called it quits when I saw Caplansky's truck, hidden in plain sight. I had wanted to find his table so badly, no wonder I couldn't! Against my better judgement, I asked for a hamburger. I had two small bites. I creaked. I stared at this lovely food, and threw 25 years of unwasteful education out the window, and the burger in the bin. I'm sorry Zane!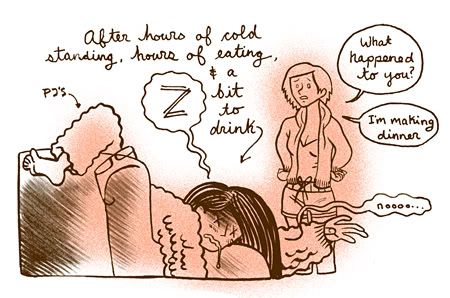 Finally, home.
I entered my room, murmured as the walls blurred and I fell into bed, deep in food coma.
The people who provided what I ate (in order of appearance):